The days leading up to a trip are exciting. You think about what sites you're going to see, what food you're going to eat, what pictures you're going to take, and your anticipation mounts. But…then you have to pack.
Figuring out clothing that's eco-friendly, functional, comfortable, and stylish can be an unnecessary stressor. You can easily skip the stress by packing a few good travel dresses.
Comfort Is Key
From sitting on planes to seeing the sites, there are a lot of good reasons to consider the comfort of your attire. Dresses should not only be cut to fit your bodily loosely, but should also be cut to fit the occasion.
A bodycon cut or sheath cut would probably be too restrictive for movement. Along the same lines, find dresses made of soft (and hopefully, eco-friendly) fabrics like jersey knit, organic cotton, rayon, etc. Comfort and style are not mutually exclusive!
You'll Want Wrinkle-Free
Finding dresses that won't wrinkle in your suitcase after a long ride on the plane is an important aspect of the travel dress.
Find fabric combinations that fit your comfort and wrinkle-resistant needs. Organic cotton can be mixed with a bit of spandex or jersey to take extra stretch. Bamboo and rayon will also fit your wrinkle-free needs.
And despite its bad reputation from the past, polyester can be quite comfortable and wrinkle-resistant.
Is It Lightweight And Breathable?
Avoid the sweat by considering dresses that have lightweight, breathable material. Odor-resistant material is also a plus. Linen often wins the prize for most lightweight and breathable, but be careful, it will wrinkle in what seems like a matter of seconds.
Organic cotton and bamboo are both lightweight and moisture-wicking. Don't forget to consider the cut of the dress when looking at breathability, as well.
Without further ado, here are a few dresses that win major points for being eco-friendly, fashionable, comfortable, and all things travel.
The Best Travel Dresses On Amazon
PrAna Hooded Travel Dress
Recent Price: $39.00-$99.00
Are you always having to ask for a blanket on those long flights because it just never seems to be warm enough in the cabin? Check out this cable knit, hooded option!
Available in four colors, this dress is made of 60% organic cotton and 40% polyester. The oversized collar and hood are both fashionable and functional — you'll feel super cozy and cuddly on a plane, train, or in an automobile!
Buy in on Amazon: PrAna Hooded Travel Dress ($39.00-$99.00)
Organic Cotton Wrap Dress
Recent Price: $33.99
This black wrap dress is perfect for any occasion. It can be worn comfortably on the plane, and then dressed up for dinner after landing. It's made of 95 percent organic cotton with 5 percent elastane, making the dress more of a stretch and wrinkle-resistant fit.
PACT is a company that cares, too, being GOTS certified and using Fair Trade Cotton.
Buy it on Amazon: Wrap Dress (About $33.99)
Boat Neck Style Travel Dress
Recent Price: $65.90
You can bet that this boat neck dress will last for many vacations to come. Anti-pilling and a sturdy construction will quickly make this dress one of your go tos.
Available in a variety of colors and patterns and made of 100% organic cotton, there's no need to worry about wrinkles when you step off the tarmac.
Buy it on Amazon: Fair Indigo Boat Neck Dress (About $66.00)
Threads 4 Thought Broome Dress

Recent Price: $22.00
This Threads 4 Thought dress has more of a casual feel with navy and grey stripes but would look great for walking along the boardwalk, taking a summer tour, enjoying a cruise, or going wine-tasting.
The fabric is 60 percent cotton and 40 percent modal, a breathable and odor-resistant pairing. Threads 4 Thought uses only organic and recycled fabrics.
Buy it on Amazon: Threads 4 Thought Dress (About $22.00)
Bamboo T-Shirt Dress With Pockets
Recent Price: $30.00
This travel dress is a loose-fitting swing dress (with pockets!) that comes in 9 different colors. It's made with 96 percent bamboo viscose and 4 percent spandex, a construction that makes the dress breathable, moisture-wicking, odor-resistant, and soft.
Buy it on Amazon: Bamboo T-Shirt Dress: (About $30.00)
Fair Indigo Organic Fair Trade Split Neck Dress
Recent Price: $65.90
This Fair Indigo dress has a classy touch with a contouring shape, split neck, and elbow length sleeves. The dress is durable and soft, made with organic cotton, and it comes in 6 different colors.
Fair Indigo makes products that are crafted in fair trade workshops. Being eco-friendly has never looked so chic.
Buy it on Amazon: Split Neck Dress (About $65.90)
Mountain Hardware Travel Dress
Recent Price: $59.99-$90.00
Wrinkle-resistant and quick-drying, you'll be prepared for everything in this dress! Whether you're on a road trip of sitting in a plane for hours on end, this dress is forgiving and will give you a lot of room to move around and adjust your position to get comfortable.
Consider this dress if you plan on doing a lot of tourist walking in sunny environments, the material is UPF 30! This Mountain Hardware dress is also equipped with an ultraviolet protection factor that blocks out those pesky UV rays.
Buy it on Amazon: Mountain Hardware Travel Dress (About $59.99-$90.00)
Columbia Omni-Shade Maxi Dress
Recent Price: $47.99-$69.99
If you're looking for a little more coverage and you're all about maxi dresses, check out this pick. Columbia is known for quality outdoor apparel, and their dresses are made at that same level of quality. Much like the previous option, this dress is designed with the outdoors in mind.
This dress has some of the technology you'll find in other Columbia products. Omni-Freeze, Omni-Wick to cool you down, and Omni-Shade to protect you from the sun. Specifically, this dress has UPF 50 sun protection.
Buy it on Amazon: Columbia Maxi Dress ($47.99-$69.99)
KAVU Flowy Dress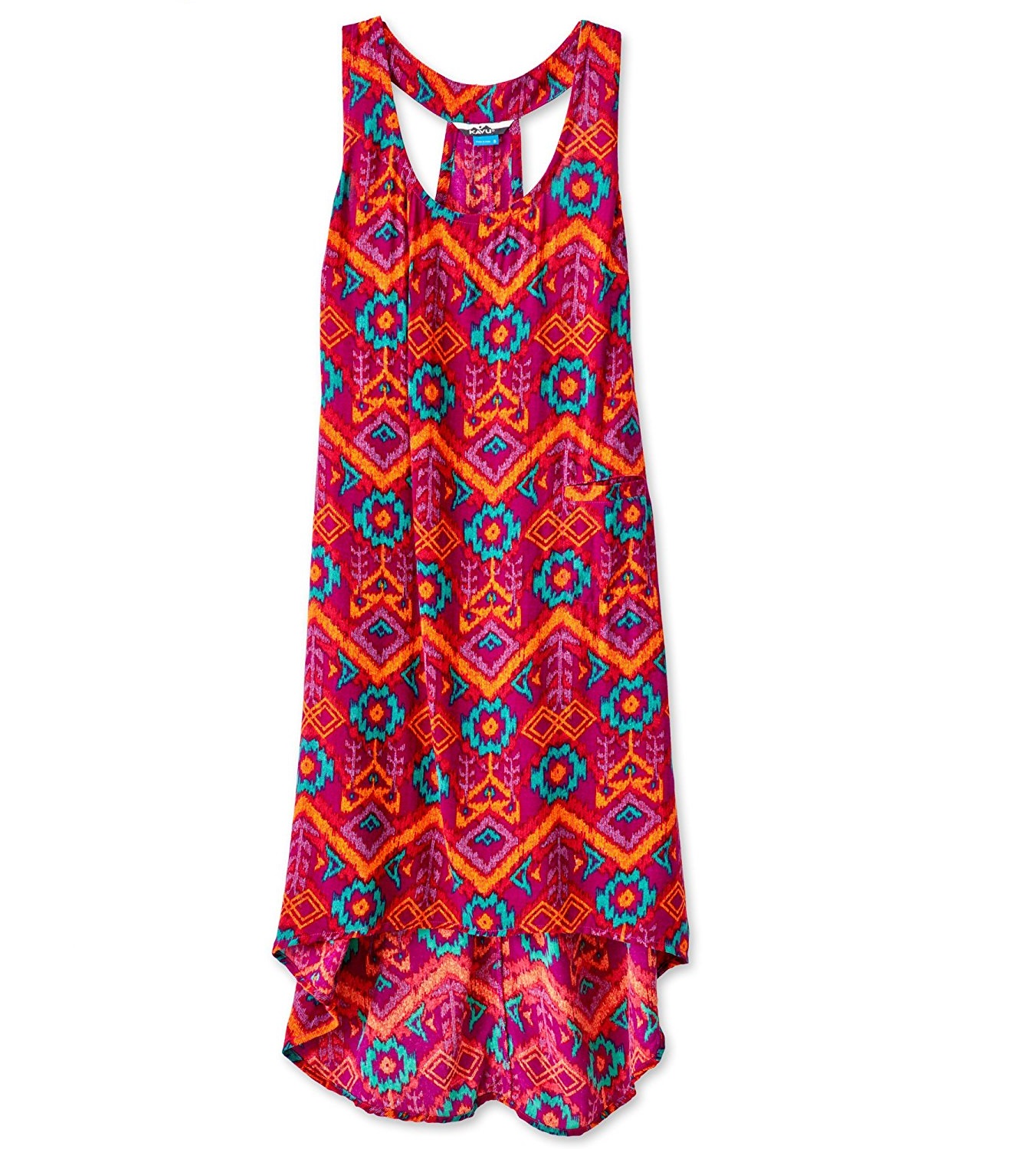 Recent Price: $60.00
Made entirely of viscose, this dress is airy, flowy, and will keep you comfortable throughout the entire travel day.
The gorgeous pattern is available in three different colors, and the high low design is fashionable and functional. Best part? The dress has pockets! KAVU is a Seattle based company that supports the pursuit of the great outdoors, so this dress is certainly perfect for a little adventurous exploring.
Buy it on Amazon: KAVU Flowy Dress (About $60.00)
Merrell Travel Dress
Recent Price: $90.00
Want a bodycon style dress made of a material that is forgiving enough to be worn on a plane? This is your dress. Merrell is known for their high-quality, long-lasting products and this dress is no different. With a strong construction, functional pockets, and a slimming shape, this dress will bring a chic style to your travel.
Made of 71% polyester, the dress is wrinkle-resistant and will look the same when you get off the plane as it did when you got on the plane.
Buy it on Amazon: Merrell Travel Dress (About $90.00)
KAVU Plaid Dress
Recent Price: $50.00
This plaid dress is perfect for a summer getaway, whether it be a plane ride or a road trip. The flowy and airy design lends itself to a relaxed style, and will keep you cool all day.
Made of 100% rayon, the fabric is wrinkle-resistant and light. With a long, curved hem, the dress is a decent length, hitting at the mid-calf. For a little more coverage with a light and airy design, this is your dress.
Buy it on Amazon: KAVU Plaid Dress (About $50.00)
Alternative Racerback Maxi Dress
Recent Price: $13.64 – 68.00 (color/size dependent)
For even more comfort and coverage, check out this dress. The sleeveless maxi dress is versatile with its classier length and sportier racerback. Price varies according to your choice of 12 different colors.
Made of 50 percent polyester, 38 percent cotton, 12 percent rayon, and boasting a very eco-friendly existence, Alternative's dress is a prime choice for your adventures.
Buy it on Amazon: Racerback Maxi Dress (About $13.64-$68.00)